Crucial UX Features for a Successful E-Commerce Store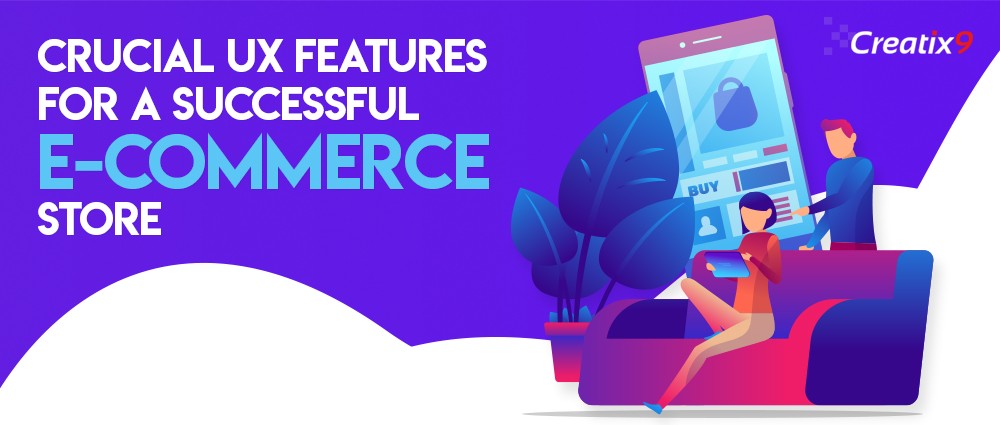 May 8 , 2019 Posted by Creatix9
The crucial goal of every e-commerce online store is simply to drive more sales and be more profitable than before. But to achieve this, there are a lot of things to keep in mind, sort them out and ensure its continuity, among this, is smooth and reliable user experience (UX) that helps you in retaining your older customers, bringing in new clientele and building up potential prospects portfolio.
Since when the technology took over the world, businesses are looking for options for yielding more profit for them. For this, online business stores have been set, but is your website perfect to compete with 2019 advanced competitors and bring in new customers still this year? It is the perfect time to evaluate your website on the basis of the latest UX trends and upgrade your e-commerce store before it gets too late.
Responsive Design
Today, more than 40% of online shopping is made successful via a mobile phone. Customers are likely to do their shopping with ease and using a smartphone simply adds more convenience to your shopping experience. Therefore, having a perfectly working mobile responsive website is crucial for the survival of the online business store. While designing your website over a desktop system, keep in view what sort of design you are choosing for your web pages, are they friendly enough to be part of a mobile version of your site or not. More than 60% of businesses lack in a proper mobile responsive website, ultimately decreasing their sales and profit, annually. Make sure the navigation bar works perfectly fine, the images and text are wide enough for flawless readability and impeccable whitespace adjustment. Add life to your web store with flawless mobile responsive design today, to ensure proper profit maximization all the year.
Hamburger Menu
A hamburger button is typically a three lined button residing at the corner of the web page, allowing you to navigate across the website with ease. Its prime function is to reveal a hidden menu for the website that helps in navigating around with properly defined options. All you have to do is click on it, a hidden menu pops up on the screen, telling you all the options available for adding ease in navigating web content without the hurdle of swiping here and there, haphazardly.
Product Search Bar and More Information Tab
Add convenience and cleanness to your e-commerce site design. Make it easy to use with predefined standard tools, helping in quick navigation and reliable product search. There are many customers who land on your page and are completely aware of what they are searching for, it is completely useless and baseless to let them wander and search for the product they are looking for. Therefore adding a magnifying glass type icon on your website to let your visitors directly tap over it and type the specific keywords for the product or service they are looking for. Product search bar enhances user experience whereas adding an ellipsis icon, a three dotted vertical option, allows the users to get more information about the product with complete ease.
Live Chat Support System
As per the recent survey, 65% of customers are likely to return to a website if they offer a live chat option on their website. Customers don't like to wait for the answer to their queries for a long time and wait for an email response. Today, over 35% of customers' looks for a website that has an online chat support system, so that whenever they encounter any problem while placing an order or delivery related issues, they can quickly get answers and response on their issue through a live chat option. This enhances the trust of the consumer over you and your website.
Multiple Photos of the Product
It was back then when customers made purchases on the basis of an image or two. But now the customers are turning more demanding, hence looks for multiple photos of the product they are going to purchase in high resolution. With photos that are clicked from every angle, the visitor feels secure in seeing it properly before ordering. There is also the need of adding the option of zooming the image, without the image being pixelated, so that the customer can clearly see every single detail of the product with ease. Make sure the images are properly optimized, not taking extra time in loading as well as being available in mobile responsive version.
Product Video Accompanied with 360o Image Viewing Option
Today users want to see every angle of the product with detail by themselves before placing an order. Therefore, the latest 360o image viewing option allows the users to view the image from every aspect by simply moving the mouse cursor over the image. There is the latest trend too of product video, where the product is briefly described as well as its working is shown clearly. This enhances the level of trust among your visitors, making them believe that your product is of high-quality and perfect for their use.
Product Description & Its Reviews
The importance of product description and its reviews can never be ignored, it is crucial, adding value to your product. Writing a compelling and meaningful product description not only provides you with the opportunity to sell a product with convenience to the shopper but also elevates the level of trust in the hearts of customers. The product description also helps in proper SEO of your pages with enhancing its performance overall. Similarly, review of the product you are about to purchase helps in taking prominent purchase decision. Pew research center found out that more than 60% of users claim that they read the review of a product before buying any new item for them. This helps in increasing the confidence and reliability of the seller along with facilitating in getting a clearer picture of the product.
Related Products
Back in 2018 many websites started the idea of showing related products the customer, making them believe that they might be interested in acquiring them too. In 2019, this trend is booming, where the website is on itself focusing on cross-selling and upselling phenomena. Making a bundle of discount on its own for attracting the customer in making a more expensive purchase than before. For example, if the customer is looking for the purchasing of a smartphone, show him related products with the addition that purchase this smartphone along with a woofer speaker at a certain price. This helps the business in selling more things to the customer, making more profit, whereas the customer also gets an exclusive offer, adding convenience to his product searching.
Faceted Navigation
For a successful e-commerce website development, it is essential to design it with brilliance, while keeping the ease of usage of the customers as their priority. By infusing faceted navigation to your website, the shoppers find it easy to explore the categories in-depth and help them in finding what exactly they were looking for.
Providing an intuitive, easy-to-use faceted navigation enables shoppers to explore your categories in-depth to find exactly what they're looking for. A seamless navigation setup is going to help the users from becoming frustrated while finding any product, as well as help them in exploring other categories and options in-depth.
Breadcrumbs
Breadcrumbs are basically the link paths that are mostly found at the top of products in your web page. With the addition of breadcrumbs to your web page, the customer knows where he is standing and from which page he was routed to this web page. There is an option of going back, but that not only looks unprofessional but also if the system is lagging, it might take you back to certain pages behind from where you were already standing before. With breadcrumbs, you can add professional look as well as ease in navigating to the previous pages without any hassle.
It is found out that, breadcrumbs are particularly more useful for the mobile version of your website, where the users don't have to open up the site menu for returning to the previous category.
Trust Badges
For boosting up the confidence of customer over you and your website, user trust badges, making your site safe and secure to surf. Though this badge, you can convey the message that which payment option is accepted by your website, helping shoppers believing your website is secure to make online payments with complete confidence.
There are certain other trust badges such as certified organic product, fair trade food product etc. helping the customers being more confident and encouraging them to continue their purchasing process without any worries.
Custom 404 Page
Landing on a '404 – Not Found' page is not just frustrating for customers but also annoys them a lot. No matter how hard you try to minimize these error pages on your website, but still, there is a chance that your customer will land on such page at some point at least.
There is a way to make it less frustrating, like creating a customized 404 error page that has useful information such as links to your top categories, home page or a contact us form. Use this error page as an opportunity to guide back the customer to your website, without losing any chance of purchase from them.
Know that you are aware that what UX features are important for running a successful e-commerce store, the next crucial step is to implement these on your online store. Trust us, you will be driving more results in no time.