Mobile Apps Development: Transforming the Mobile Marketing Business Opportunity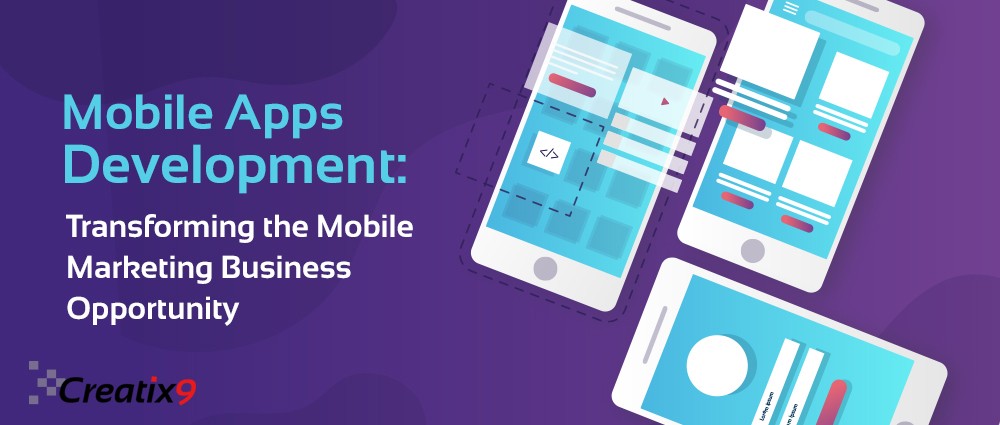 May 7 , 2019 Posted by Creatix9
In this era where technological advancements have rapidly evolved and transfiguring the changes, it has become a challenge for businesses to keep up with the pace and continue their journey of growth. Therefore it is evident now that if the enterprises are searching for advancements and be in the race of competition, they have to emerge themselves to many high-end technological changes, such as transforming their concepts and ideology to mobile applications.
The mobile app industry is flourishing in terms of the revenue it is generating. The global mobile app revenue as per Statista is astonishing. By the end of 2015, the generated revenue was around $69.7 billion whereas, by the end of 2016, the revenue increased to $88.3 billion, making an increase of $18.6 billion. This is not stopping at any point, as by the end of 2020, it is estimated that the revenue will whoop to $189 billion, which clearly indicates its importance and the growth of businesses through mobile applications.
According to Clutch, there is a huge gap when it comes to the companies updating themselves for mobile application development. As per the survey, there were only 18% of the companies who considered their existence on mobile platforms in 2016, but by the end of 2017, it brilliant sprang to 42%, showcasing a leap of 24% in one year. But by the end Q3 of 2018, it is studied that the figure did not change from 42% till yet, and no new business jumped to mobile applications development in this year, so far. This is a huge setback, especially when the competition is too tight.
Therefore it is evident that mobile applications have the ability to transform businesses and bring in new opportunities for growth, which should not be ignored more if the businesses what to survive in 2019 and so on. It is time to transform your business and evaluate its standing now.
The Mobile Marketing Business Opportunity
The mobile phone has become an essential part of the lives of every user and since the advancements in smartphones are taking the world to the next technological level, it is important to change your presence from the desktop to the mobile. The customers have evolved and now they are more demanding and less time to spend, therefore it is clearly the biggest opportunity for businesses to be with their clients 24 hours and 7 days a week via a smartphone, in their pocket.
According to recent studies, approximately an average consumer spends nearly 6 hours a day on their smart devices. There was a time when customers used to spend their time on laptops or personal desktops but after the revolution of smartphones, these traditional means of interaction have deemed to be minimized to a larger extent. It is found that 90% of customers use mobile applications in 2018, whereas, only 10% use browsers via computer or laptop. In fact, by the end of Q3 of 2018, mobile internet traffic has surpassed beyond your imagination as compared to desktop traffic globally. This clearly indicates the usage and importance of mobile phones in the lives of customers and how this platform can be beneficial for your business in 2019.
The Ideal Platform Choice for Application Development
For the majority of marketers, the premium choice for application development is the IOS platform, making new applications for Apple App Store. But this approach has somehow changed as Google Play Store is a leading. According to Statista, a lot of mobile applications are posted by the end of Q3 of 2018. The leading platform is Google Play Store with nearly 2,100,000 apps available, whereas, on Apple App Store, there are nearly 2,000,000 apps available to be download. The other platform includes Windows Store with 669,000 apps, Amazon Appstore with 450,000 apps and Blackberry World with 234,500 apps.
Through this study, it is clearly evident that there are only two platforms that are going to help you in increasing your revenue and business share, which are Google Play Store and Apple App Store. Therefore it is important to mark your existence on these platforms and be recognized globally. There are several companies that design their applications in such a manner that they can be used on both the platforms, managing more customer portfolio conveniently.
Constant Change with More Applications
The demand for the smartphones are continuously increasing, therefore it is necessary to build more applications for the mobile app stores. This is clearly an opportunity for the developers to use their innovative and creative ideas to carve out new applications that are as per the demands of the clients as well as technological needs. Businesses need to understand that only superior and quality applications are going to be successful in the mobile app market and all the mediocre ideas and developments will hardly make any profit for them. Businesses need to search for competent app developers and use their capital on such firms that have exceptional programmers who can easily handle the uniqueness of the application for its survival.
Digital Transforming and Mobile App Lifecycle
Digital transformation today is providing the businesses an opportunity to understand the state-of-mind of the modern tech savvy users. Thus it is necessary to develop mobile applications and with high technological advancements to not only understand the users but also vital for their growth and sustainability.
For a mobile application, there are four stages that are required to be followed religiously and executed with perfection.
Step 1: Strategy
Strategizing for the new mobile application plays a vital role in its development later. At this stage, it is important to draft and look into the experience you plan to deliver to your users. Identify the infrastructure, the timeframe and the budget for the application you have. What platform you have targeted to release your application and what operating system will be used. It is important to set your target and what business goal or purpose this application is going to serve. Crystal clear communication is necessary at this stage so that no chaos can erupt later on.
Step 2: Develop
This the step where the mobile app idea that was documented before, comes to life and is developed for you to see. There are several options from where you can start or develop your mobile app, such as:
In-House Development: Bring your own development team, hire creative minds and discuss your application idea with them. This is definitely time-consuming and may require the use of internal resources.
DIY Platform: There are certain do-it-yourself online application tools, which allows you to make your app with lesser capital and budget. This is great if your idea or application development plan is simple and basic. If you need a professional look and feel with many transitions, this is not an effective idea.
Freelancers: You can easily find individuals who work from their home and can help you in developing your mobile app. This is a typically a cheaper option but it has a lot of risk of being encountered with a non-professional individual, who has not that much creativity you are looking for.
App Development Firm: The benefit of hiring an application development firm is that you get an opportunity to work with professionals, who have proven record in this domain and can easily understand your vision and convert it into a reality. Though this is an expensive option, still have perks.
Step 3: Launch
After getting the perfect wireframe with the correct user interface (UI) enhancing user experience (UX), it is the time to launch your application. After continuous quality assurance of the app, it is the time to make it available for the users to acquire it and use it. There are three stages in this:
Pre-Launch: Before the launch of the application, making sure that there are no bugs or errors and the application will run smoothly on all the devices.
Launch: Simply launch the application on your desired platform, either it is for Android phones or for IOS phones.
Post-Launch: After the launch of the application, it is important to keep track of its performance, the traffic that hits it and its timely maintenance.
With App Store Optimization (ASO) you can increase the visibility of your application and make it popular among the users.
Step 4: Engage
This is the last stage where the data achieved is actively being used for generating leads, growing revenue and continually optimizing it for more prospective leads. It is essential that your application can fit with the need of the users and they find it friendly to use it.
Finalizing the Concept
It is clear that your business presence in terms of mobile application is essential and can lead to more revenue with more customer engagement. Therefore enterprises must transform into the digital world and allow more client engagement benefiting them. Time to convert mobile marketing into a business opportunity for your survival and rapid growth.